Benefits of Hyperbaric Oxygen Treatment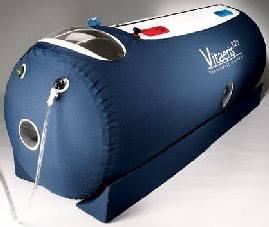 Since 2005, many physicians started incorporating hyperbaric oxygen therapy treatments for their patients. The majority of patients have noticed significant improvement with little or no side effects.
Patients with Autism, Chronic Fatigue, Lyme disease, Sports Injuries, ADHD, and non-healing wounds have been shown to have decreased oxygenation in the brain or other parts of the body. The aging body also has the same issues. It is currently thought that if we increase the amount of oxygen in the body, we can significantly improve the brain functions and help injured areas heal. Treatments must be done under a physician's care who has been trained in the use of hyperbaric oxygen treatments.
The average number of treatments depends on the condition treated. A typical patient will have between 3-5 sessions per week for serious medical conditions. For anti-aging therapy, one session weekly has been shown to be helpful.
Before the first session, Dr. Love must evaluate the patient to determine if he or she qualifies for treatments. Each patient must be on a certain nutrients/vitamins before starting the treatments.